Rayman
Posted on 2011-10-14
Tagged with:
I've never really been into Rayman, especially since playing the 3D games and getting very frustrated by the usual inherent 3D platforming problems we all know and expect. Recently it also seems he's been usurped by those pesky Rabbids but after playing the game at a '90s nostalgia' event I have to say this is really a return to form. It was hard to get a proper gist of what was going on because as I was playing I was having my ear chewed off (not literally) by Jet from Gladiators but more on that later. From what I could make out though, the game begins with Rayman snoring in the 'snoring tree' and waking up everything in the forest - even the dead! He then goes about his business collecting Lums as usual and also now freeing various sprites and nymphs from their bonds around the forest after he's collected enough pink cute bouncy things called Electoons.
It has to be said that this game is absolutely beautiful. It's cartoony but also the environments are lush. It's certainly a throwback to the days of old-school 2D platforming complete with parallax scrolling of the environments both in the foreground and the background but it's all a treat for the eyes. Rayman can jump, dash and swing around the levels and there are plenty of secret items and secret areas to find as well - it's one of those games where you'll want to go back to levels to get everything which should give extra gameplay for people who usually just rush through levels trying to get to the end. It also feels good to play as well because the controls are very responsive. Some platform games can feel a bit sticky but the animation and movement here is all top notch and uber-cute. The music's also great, mostly featuring tribal drums and a Jew's harp boinging away.
The other great thing about playing the game at the Hard Rock Café was the fantastic 90s nostalgia they had to look at including a Mr Blobby inflatable, 90s sweets (flying saucer anyone?) and of course Jet from Gladiators. If you want to look her up her real name's Diane Youdale and she's now doing psychotherapy and producing stuff for the BBC. Thoroughly nice and very talkative, so much she put me off my game!
If you fancy playing the game you can play it by yourself or in four player co-op from November 25th 2011.
Buy Rayman Origins now
New: Buy Rayman Origins from Amazon.com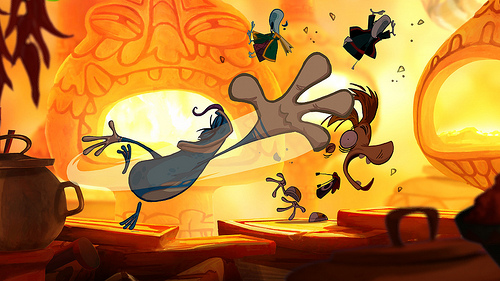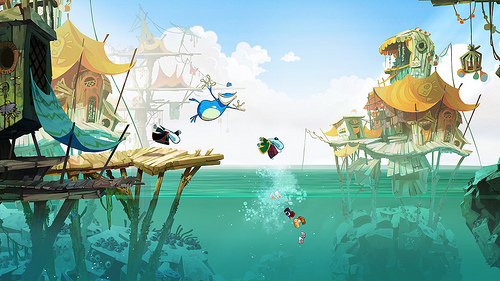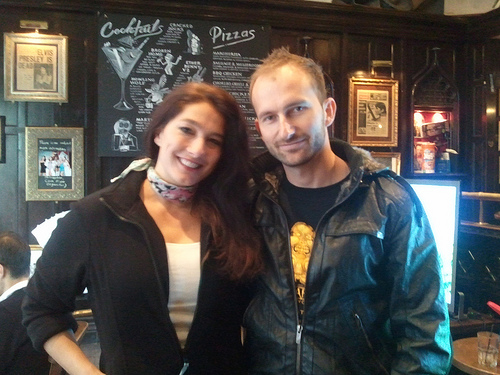 Related: Rayman, Rabbids Go Home review