Were you one of those fools who thought the Nintendo DS was just a fad and that it was only good for kiddie portable gaming? Well to prove how wrong you were once again, the awesome KORG MS-10 synthesizer software is heading to DS with all functions intact. Dubbed the KORG DS-10; prepare to get electro pop creating to your heart's content with this fully featured portable music creation software.
Here is a list of just some of the amazing features included:
Use the touch screen to operate the famous KORG KAOSS PadPAD
Storage for 18 different sessions
Connect wirelessly with your friends to work on projects together
Two patchable dual-oscillator analog synth simulators
Four-part drum machine
Six-track (analog synth x 2, drum machine x 4) / 16-step sequencer
Delay, chorus, and flanger sound effects available from the mixing board
KORG DS has to be one of the best pieces of non gaming software for the system and by simply plugging a headphone jack and connecting it to your PC or Mac you have a full music centre at your fingertips, and the best thing is you can carry it around with you! The Korg DS10 release date is 10th October.
If you need any further evidence of the quality why not head over to the Official KORG DS site and check out the sample MP3.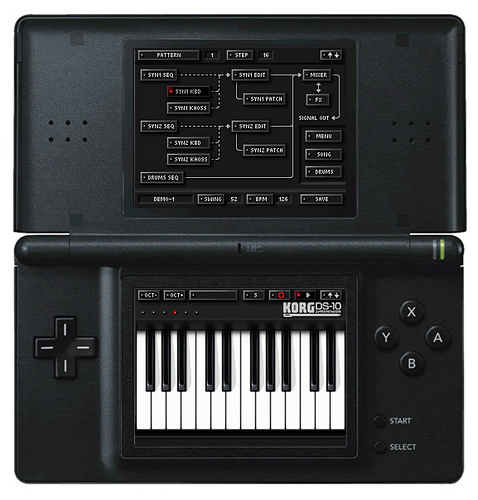 Related: Official KORG DS site, Guitar Hero on Tour DS Review