I try to get Grand Theft Auto online with varying degrees of success in my review of GTA Online video game for the Xbox 360, PC and PS3.

rated

5

out of

10

Tagged with: GTA V, Sandbox
Reviewed on by

Gamesweasel
So, here we are with me attempting to review GTA Online, the problem being that it's very hard to actually play this game because the servers can't handle the amount of people trying to get on the game at the moment! I was one of the lucky ones who managed to at least get into the game and a create a character so I'll give you my first impressions based on what I saw.
You begin the game by choosing a character based on what your parents and grandparents looked like. Not real ones of course, just ones you choose in the game. Filter through the family tree and you can see you ugly mug on the right of the screen and then give them some hair, a hat and glasses if you want to complete the style.
You're then introduced to the world as you meet Lemar, who picks you up at the airport and immediately invites you to a race. From there you start completing jobs and perform a simple mission before you're let into the world properly to mingle with other gamers. You can create your own crew and join other people's and then rampage round the city performing heists and selecting jobs and races via your phone. I had a rather fun dirtbike race and took part in a shootout before taking a walk on a moonlit night and then, unfortunately, got kicked out and haven't been able to get back into the game since.
So, I'm left thinking there is a great game in here with persistence and a storyline to play through that could prove a lot of fun if you make an appointment to meet up in Los Santos with your mates. It's just a pity that at the moment, not many people can actually enjoy it. For now, and I'm sure this score will increase as demand wanes or capability increases, GTA Online gets a lowly 5 out of 10.
Get GTA Online now
New: Buy GTA Online from Amazon.com
Offers: To save you money when you order web hosting use our Godaddy coupon codes for October 2013.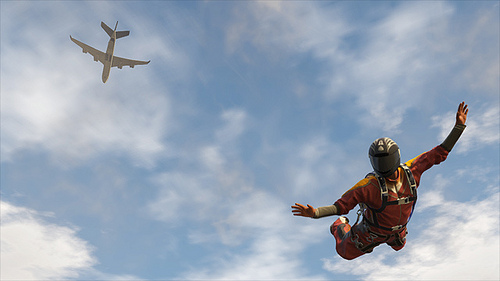 Related: Grand Theft Auto V review, GTA games, GTA Online review on Youtube