We yeild our mighty axe with our review of Guitar Hero Warriors of Rock video game for the Wii, Playstation 3 and Xbox 360

rated

8

out of

10

Tagged with: Guitar Hero
Reviewed on by

Gamesweasel
Since Guitar Hero first came out on the PS2 it's gone through a number of changes. Since Guitar Hero 2 every song now uses all the assets from the original track, drums, bass and vocals all come together for four-player action, they've dabbled with guitar duels and battles with famous guitarists such as Slash and of course there is online play and leaderboards for you to try and grind your way to the top of the last by proving you have the best 'axe' skills.
Warriors of Rock takes a refreshing approach and uses a sort of fantasy role-playing story narrated by Gene Simmons to move you through the track lists. Playing as characters you'll know from the previous games, each assigned their own set-list, you play in front of the assembled crowd to earn stars. There is a twist though. Each character has their own strengths that help you earn star power and earn more stars. These can be powers such as starting on an x2 multiplier, earning 5% star power for getting a 10 note streak etc and more. Earn a certain number of stars and each character will transform into a fantasy version of themselves and their power will increase. It's all done very tongue in cheek and is certainly a breath of fresh air compared to just touring round the world trying to earn fans and get stuff you can buy in the shop.
So what are the songs like? Well as expected they are heavier in general than previous games but the order of songs is slightly unbalanced in my opinion. If you're not into proper metal the first half of the game will throw up such songs like Queen's Bohemian Rhapsody, Muse's Uprising and REM's Losing My Religion. When you get halfway and have to retrieve a sacred guitar that will help you defeat the beast at the end of the game you then play through a sort of 'rock opera' split over 7 parts called 2112 as performed and narrated by the band Rush. I've never heard of this tune but it's actually quite fun to play through with many parts that'll test your Guitar Hero prowess. After this though, the tracks get a lot heavier and if you're not into it you may not have as much fun playing through tracks you don't know. However, for me it was an eye-opener and I actually discovered some new bands which I'd never really heard before - an example being the excellent tune Bodies by Drowning Pool.
So the game does provide something very different to the norm so is definitely worth a play if you can't get enough of strumming your instrument in your lounge with your speakers turned to 11. Of course, if you want a new guitar they've designed a brand new one which is the best design yet. The body actually snaps onto the central stem of the guitar which keeps all the essential parts in the middle. This means it's probably customisable in future - or you can take the outer parts off and just play the stem and pretend you're from the 80s. There's also a star power button near the 'plectrum paddle' if you don't like turning the guitar on its end. I actually found it in a bit of an odd place and I'd lose my streak if attempting to press it so stuck with the original method of activation.
I really enjoyed Warriors of Rock and if you're into fantasy role-playing and love Guitar Hero it's an essential purchase. It gets an excellent 8 out of 10.
Get Guitar Hero Warriors of Rock now
New: Buy Guitar Hero Warriors of Rock from Amazon.com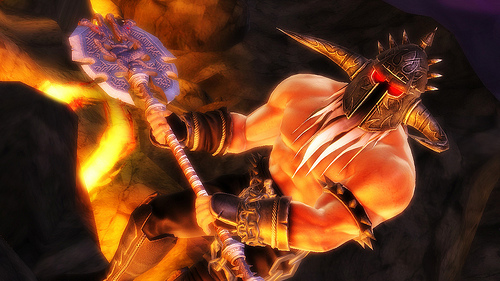 Related: Using the Wii Guitar Hero controller with Rock Band, Guitar Hero 5 review