Review of the arcade racer DiRT Showdown video game for the Playstation 3, PC and Xbox 360

rated

7

out of

10

Tagged with: Arcade Racing, DiRT
Reviewed on by

Gamesweasel
Codemasters used to make their rally games a racing simulator, You'd race through real world locations whilst having your co-driver shout instructions at you garnered from the map he was reading, The games were hard, unforgiving and just the type of thing rally nuts loved. DiRT Showdown is the antithesis of this. Codies have played with this format before but this one takes DiRT into the realm of arcade driving with not only races but also destruction derby-style challenges and more hooning around in Ken Block's tonne of fun.
The main mode you'll be playing through is the Showdown Tour where you make your way through the towers of each segment completing various events. If you manage to qualify you'll unlock challenges further on and earn money which you can use to upgrade your car or buy new ones. You can also choose the team you drive for to mix up how your car looks. You'll take part in standard races, elimination rounds where you must make sure you're not at the back when the counter reaches zero, rampage rounds where you smash into each other to earn big points, head to head gymkhana matches where you must drift, smash and donut to the end of the course and more! There's lots of variety here and some of it hits and some of it misses wildly.
Racing's great fun if a little floaty if you're used to the tighter controls of previous Codemasters rally racers but the rounds where you smash into each other just don't work for me. At least Twisted Metal added weapons to mix things up but just trying to t-bone and scrape into other cars usually means you just end up shunting back and forth. Hooning about in the Joyride mode of the game is a laugh though. Choose your playground and just burn about trying to do all the tricks and finding hidden logos. Sometimes it's a little tricky to know exactly what you need to do to trigger the next challenge but eventually you'll crack it and can even upload your replays to YouTube to show off and challenge your friends. And if you like your multiplayer a little more personal you can also play online and split screen as well.
Another gripe is the voiceover. I actually know Christian Stevenson but here he is really annoying as he says things like "It's a Slamboree" and other remarks over and over again in what seems to be an attempt to sound like the dude from the Daytona arcade machines. Luckily you can turn this off in the menus which I highly recommend. Sorry Christian!
DiRT Showdown is a fun game but it does feel a little bit throwaway. It's certainly slick and looks great but just lacks the real thrills and spills to take it into the big league. I just have no incentive to play it to the end but you may think differently so it gets a very good 7 out of 10.
Get DiRT Showdown now
New: Buy DiRT Showdown from Amazon.com
Offers: Pick a Godaddy promo code and save money on web domains and hosting over at Godadddy.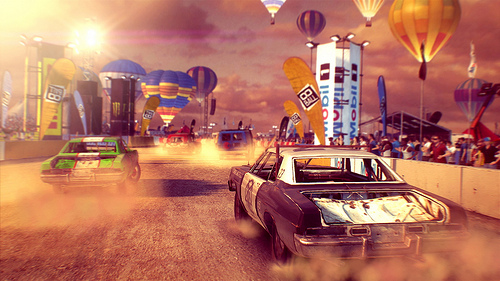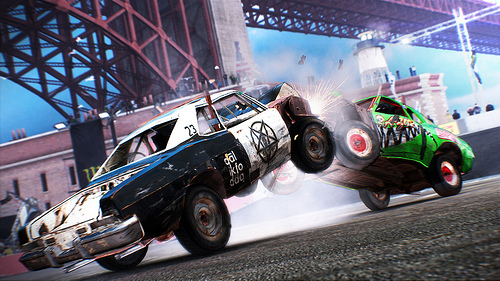 Related: DiRT 3 review, Colin McRae Dirt 2, DiRT Showdown review on Youtube