Ridge Racer has always been seen as an arcade franchise and this time around Namco Bandai have taken things a step further along the lines of Burnout and Need for Speed to include taking out other cars and smashing through buildings and scenery around the fictional town of Shatter Bay. You'd be forgiven for thinking you were about to play Battlefield 3 when you see the title screen but from here you can choose to play through the campaign single player, have a go at creating your own challenges and cities in the level editor or explore other people's creations.
So what's it like when you get behind the wheel? Well, there are a variety of different races to try. You can try your hand at straight races where you earn boost by drifting, getting air and smashing through objects, you can enter drift events where you score points by keeping your combo going, try to smash up your opponents in Domination races or compete in time attack or frag attack races. For frag, read takedowns if you're used to Burnout terminology.
Sounds like a lot of fun doesn't it? The problem comes when you actually try driving. Races just aren't a lot of fun and that's down to a number of reasons. Car handling feels very heavy and drifting is very tricky to adjust. You either over steer wildly or, when you try to correct, end up sliding into the opposite wall. You can also smash through buildings but only when you boost using your power meter. If you run out of juice just before the target you just smash into it, either crashing or having to turn tail to try and catch all your opponents that have just whizzed by. Even when you do smash through a target the auto-steer sometimes mucks which means you get punished even for doing something that initially looks cool! The graphics also aren't anything to write home about and the level design just isn't to the standard you'd expect already set in this genre by developers such as Criterion and Black Box.
If you're a budding games designer you can have a go at creating your own levels using the robust level editor but so far, playing other people's, you can see why developers are paid to make games as they don't make frustrating, nonsensical levels where you crash continuously every time you respawn!
I can't get over the feeling the Ridge Racer series should have stuck to straight up arcade racing. It's as if it's tried to copy the big boys of the genre and failed so it gets an average 5 out of 10.
Get Ridge Racer Unbounded now
New: Buy Ridge Racer Unbounded from Amazon.com
Offers: To save when you buy web domains and web hosting use our Godaddy coupon codees for 2012.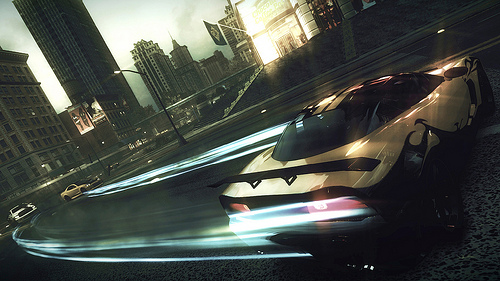 Related: Burnout, Need for Speed, Ridge Racer Unbounded review on Youtube