Matt Cuttle tries not to let his distain for Formula One cloud his judgement of F1 2013 for the Xbox 360, PS3 and PC.

rated

7

out of

10

Tagged with: F1, Racing Simulator
Reviewed on by

Gamesweasel
I really don't like F1 racing. I don't like the cars, I don't like the drivers, I don't like the tracks and I certainly don't like playing video games based around the sport so I apologise for this footage that won't show the game being played in a very good way. If my insurance provider sees this review my premiums are bound to shoot up! However, I'll try not to let this fact sway my review of F1 2013 so, despite my distain for the sport, I'll rank this game on its merits.
Codemasters' F1 series does a similar thing to a lot of sports franchises, and that is, they release a game every year with a few tweaks to make it better. With people moving around a pitch or a court, this is evident, but with a racing game, if they haven't changed much in the actual sport, there's not much Codies can do to make this latest game feel fresh
It's good, then, that they've included a classics mode which lets you race any of five cars from the 80s across two tracks and wear a big moustache as Nigel Mansell in a Ferrari! Not only does the look change to a more sepia feel to convince us that these are races from the past, but the cars handle differently too. They're less like spacecraft and more like machines to be wrestled into submission by men, and each of the cars from the various teams handle very differently. It's nice to see this retro feel and you can also get the 90s pack thanks to some DLC, however it would have been nice if these modes offered more, as for me, they're actually more interesting than driving what is basically just a computer on wheels.
As usual, the graphics, circuits and sound effects across the Grand Prix and Career modes are spot on and you can adjust your car to shave off extra milliseconds from your lap times. You'll also incur penalties for unsportsmanlike driving or be disqualified or have time added on to your race for cutting corners. And it's this 'behave yourself' attitude that bores me. It's not really a fault of the game, more of the pitfalls of making a simulation of a sport I find to be far too clinical in the first place.
If you're really, really into F1, you're going to see this as an essential purchase, however, if you do have the 2012 game it's best to consider how much you're willing to spend on what is essentially just a new classic game mode from the 80s and updated team rosters. If the answer isn't $40 or more, I wouldn't bother. F1 2013 gets 7 out of 10.
Get F1 2013 now
New: Buy F1 2013 from Amazon.com
Offers: To save you money whenever you buy web domains use our Godaddy renewal coupon codes.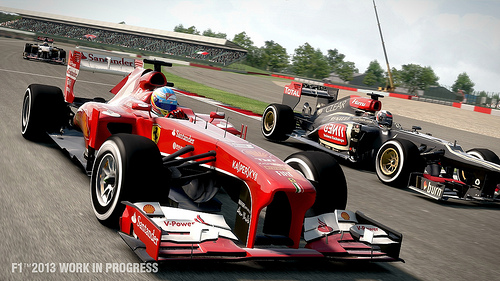 Related: F1 racing, racing game, F1 2013 review on Youtube