Forza Motorsport 4 is the latest realistic driving game developed by Turn 10 and published by Microsoft Studios for the Xbox 360. If you're familiar with the series you'll know this one's all about realism and less about the thrill of police chases or throwing red shells at your opponents. Not a bad thing but definitely a game for car enthusiasts who want to get their hands on cars they could only dream of or watch Jeremy Clarkson driving about on Top Gear. Speaking of which they've injected a bit of personality into the game with the addition of challenges featuring the Top Gear test track and the voice of the Clarkson popping up now and again.
There's a massive selection of licensed cars to get behind the wheel of and each one behaves in its own individual way. Normally I like to see the cars I'm driving but this time around it feels good to have the view from inside the car as you burn round the corners and veer from the racing line to try and get the edge over an opponent. You can even see what your car and tyres are doing live as you race with a flick of the d-pad.
How easy the game plays is entirely up to you - there are a variety of assists you can turn on or leave off including racing line, braking and even a rewind function if you muck things up. Everything has also been polished over the last game. The cars look better, the scenery of the different race tracks all over the world is beautiful and even the engines pack a suitable punch, especially when you get into a car in the S class!
And if you really like to salivate over exhausts, metal and leather you'll love the Autovista section that takes you on a virtual tour of the cars you unlock. It looks great but once again, it's only really for petrol heads. Multiplayer has also been much improved with a massive community, clubs you can set up where you can share your cars and their version of EA's Autolog which tracks the stats of rivals and sets you challenges.
By far this is the best realistic driving game available for the Xbox 360. I'm more into Burnout and Need for Speed but I can see the quality here so Forza Motorsport 4 gets 9 out of 10.
Get Forza Motorsport 4 now
New: Buy Forza Motorsport 4 from Amazon.com
Offers: To save you money whenever you buy domain names or web hosting use our Godaddy coupon codes for November 2011.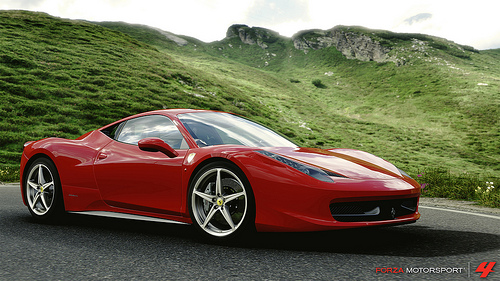 Related: Burnout, Need for Speed, Forza Motorsport 4 review on Youtube