Review of Mario Tennis Open for the Nintendo 3DS

rated

7

out of

10

Tagged with: Mario, Tennis
Reviewed on by

Gamesweasel
Mario Tennis has a place in many gamers hearts, taking the somewhat dull sport and throwing in that usual Nintendo magic. Is the latest incarnation a fault or an ace?
After a fairly long wait since the Gamecube version, we can't help but feel a little disappointed by Mario Tennis Open for the 3DS. The game is essentially exactly the same, which is no bad thing at all. The usual modes are present, singles tournaments and doubles, as well as the special games like ring challenge mode. However there aren't enough new features to warrant the wait. The inclusion of Mii characters spoilt the game for us. Completing tournaments earns you coins which can be used to buy new costumes for your Mii. Most of these are copies of the existing character's costumes, and are so high in price, you'll have to play for months to unlock them all. Still, at least the game has longevity with the new inclusion of online multiplayer.
This is where the game really shines, with human controlled opponents to go against. The best part of Mario Tennis was the classic mode. Here you hit the ball against a videowall playing the original Mario Bros game. You must time your shots to collect coins, mushroom and stomp Goombas. It's fantastic stuff. Graphically the game is up there with the Gamecube version and the sound is typical Nintendo happy go lucky tunes. The 3D effect is not very good, especially when using the zoomed out view. Controls are simple to master, with touch screen options added for beginners. Avoid the gyro controls at all costs, as they're dreadful, as always.
Fans of the series will have bought this already. Newcomers will find a great little game here, we felt the title was a little rushed, with too few new content to make the game feel essential. Mario Tennis Open 3DS gets 7 out of 10.
Get Mario Tennis Open now
New: Buy Mario Tennis Open from Amazon.com
Offers: Pick a Godaddy renewal code and start saving money on web hosting and web domains.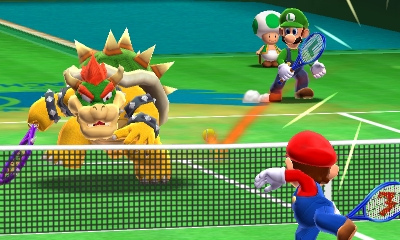 Related: Mario Sports Mix review, We interview Charles Martinet - the voice behind Mario