Review of FIFA 12 video game for the PC, PS3, Xbox 360, 3DS, Nintendo Wii, PS2, PSP and Nintendo DS

rated

9

out of

10

Tagged with: FIFA
Reviewed on by

Gamesweasel
I've seen a lot about FIFA 12 in the run up to launch and after playing it at preview events I couldn't wait to get my hands on it. Now it's here and they've made quite a few changes. Most of them are for the good but some they also present their own problems which could probably be smoothed out in FIFA 13.
The main thing you'll notice is the complete overhaul in the way the game plays. You can now dribble past defenders more easily thanks to new close control and no longer can you just hold down two buttons and send 'homing missiles' in on players on the attack. Now you have to press individual buttons to make a move whether it's sticking out your leg, putting your arm out to grab someone's short or go shoulder to shoulder to them, jockeying in front of someone who's trying to get in on goal or doing a good old-fashioned slide tackle. Refs also seem to be more lenient this time around and I've noticed that if you don't get the ball, slide tackles don't usually connect anyway which means a better flow to the game.
The player impact engine also brings more physicality to the game although it does come with its problems. Players off the ball will sometimes trip each other or block player runs which would normally be fouls. Here they are ignored by the referee resulting in lots of shouting at the TV. I've also seen some strange quirks where players seem to 'cuddle' on the floor for 10 seconds. A good addition in some respects but something that definitely needs working on in an update or FIFA 13.
Graphics are better than ever - they've even got Rooney's hair transplant in there! Menus are also slicker and don't stutter when coming onto the screen.
EA SPORTS Football Club is also at the heart of the game where you earn XP for everything you do and this goes towards the club you support which you select when you first put the disc in. All the usual single player modes are also there but to be honest, FIFA is all about playing against your mates and online and that's where there's really incentive to play now apart from just your personal pride.
Commentary is also great - Alan Smith joining the team is a good change from Andy Gray. This year the team in Vancouver must be congratulated. Apart from some teething issues with new innovations they've absolutely smashed it! It gets 9 out of 10.
Get FIFA 12 now
New: Buy FIFA 12 from Amazon.com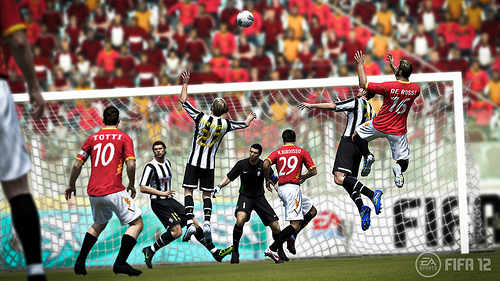 Related: FIFA 2012 trailer, FIFA 2012 Kinect support, FIFA 12 review on Youtube