Review of FIFA 12 downloadable content UEFA EURO 2012 video game for the Xbox 360, Playstation 3 and PC

rated

8

out of

10

Tagged with: FIFA, Soccer
Reviewed on by

Gamesweasel
Electronic Arts usually come under fire every other year when they release a boxed game that lets you play through the Euros or the World Cup. This time around they've sensibly gone for a DLC option you can plug into FIFA 12 which lets you play through the scenarios of the qualifiers and compete online and offline through the actual finals as well.
It's all very well themed - it has the floral designs in the menus, new music and all the 8 official stadiums in there and you can play as any of the teams in the tournament. The big game mode this time though is Expedition mode which has you select a star player as a captain along with a load of random reserves. As you play different countries you unlock roads to other nations and as you play through you collect new players and build a fantasy team. If you're into collecting stuff you can also add items to a mosaic as well which you earn as you win. Lose and roads that link countries get destroyed and you have to try again. It's actually a very fun offline experience. You can also play through challenges based on actual games in the build-up to this summers' competition. These challenges expire so you have to strike within the time limit. For example on March 25th Spain were 1-0 down against the Czech Republic with only 30 minutes left on the clock. You have to beat them 2-1 in an awesome comeback. The strange thing is that if you do too well you don't actually complete the challenge. I put 4 goals past them and had to try again. I then had to just play keep ball at 2-1 which was no fun at all.
The general pace of the game seems to have been tweaked a little faster which isn't a bad thing and the default camera has also been tweaked for the better. Negatives are some strange player impact engine animations which seem to have been ironed out in the native FIFA 12, some occasional crashes and odd commentary where different phrases sound like they've been recorded at different times in different rooms. They probably were in actual fact but it does eject you from the overall experience somewhat.
Despite its flaws it's still a very fun game both offline and online and when the tournaments are on the team at EA Canada promise to add new challenges to reflect what's just happened in the day's games. UEFA EURO 2012 gets an excellent 8 out of 10.
Get UEFA EURO 2012 FIFA 12 now
New: Buy UEFA EURO 2012 FIFA 12 from Amazon.com
Offers: To save when you order web domains and hosting use our Godaddy renewal codes at checkout.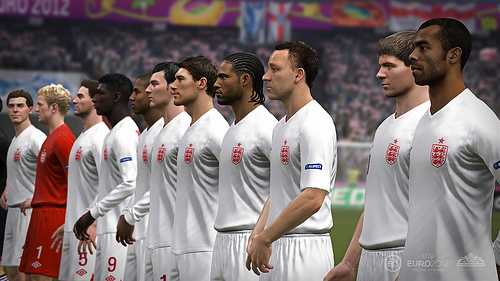 Related: FIFA 12 review, FIFA, UEFA EURO 2012 FIFA 12 review on Youtube