Rock Revolution's been out for a few months in the States but it's only just hit UK shores so I apologise to people in the good old US of A for this untimely review. I wish I'd got it sooner though so I could have warned all of you that it really isn't necessary to spend your money on this game.
In case you don't know, Konami were the original rhythm game masters with all their Beat Mania titles and musical games in the arcade which included dancing about, playing guitars and bashing drums. It seems they've been eyeing the home market jealously since the advent of Guitar Hero and Rock Band and now it's their turn to have a go.
Unfortunately, there's no real redeeming feature in this title at all. There are around 30 tracks to play through of varying rock styles but they're all cover versions. This was acceptable when the first Guitar Hero came out on PS2 but things have moved on now and I expect music taken from the original masters. Also, all the characters on stage look like Pro Evolution Soccer models in new gear – you can't even customise your band or character and have any fun with the career mode which is just playing through a list of songs one after another.
Even the timeline which is vital to knowing which note to play next is wrong. Because it's in 2D, you can't see very far in front of you, resulting in awkward parts of songs being even worse due to the fact that your reactions can't keep up. It's also very unforgiving and you have to hit the notes so accurately that combos are really tricky to put together.
And if you fancy making your own music there's a half-decent music studio in there but it's not anything like on par with some of the software aimed at beginners you can get for the PC.
The good news is that it works with any drum or guitar controllers you may already have but to be honest, if you own any Guitar Hero or Rock Band title, there's absolutely no reason to go out and get this. Rock Revolution gets a dreadful 3 out of 10.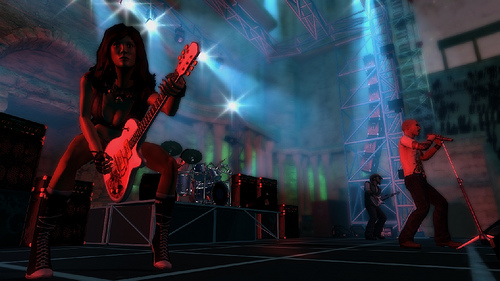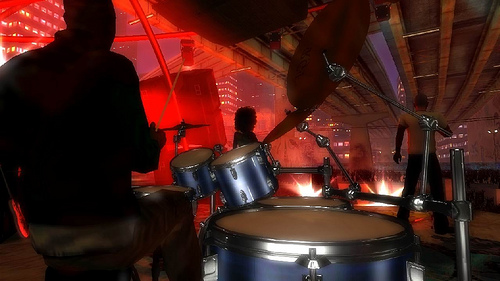 Related: Guitar Hero World Tour review, Rock Band 2 review, Youtube Rock Revolution review