Once upon a time during the mid '90s I thought I wanted to be a rock star. I bought an electric guitar, realised I could only just about play along to some Oasis songs and then got distracted by work as I grew older and the dream faded. Rocksmithwas a reason to dust off my axe and plug it into my Xbox 360 as not only does it play in a way similar to Guitar Hero et al but also turns your console into a full on amp and effects box and teaches you a thing or two to boot.
It's difficult to know exactly who this music game is aimed at. When you first fire it up it acts like you've never picked up a guitar or bass in your life when it tells you how to hold a plectrum but as you begin playing to tunes along the lines of Muse, The Rolling Stone, Stone Temple Pilots, The Pixies and Jarvis Cocker it ranges from letting you play one note to denote a whole series of notes in the game to suddenly making you move your fingers all over the fretboard in order to play a solo. There's no difficulty setting so the game adjusts to what it thinks is your level - however, at least for me playing notes along the same string is very different to switching strings and moving up 10 frets and trying to find the new place to play in half a second. I can see this being very daunting for anyone unfamiliar with guitars in the first place.
At a glance it's also tricky to tell at first which string is supposed to be the 'green or 'orange' one amongst the six to choose from but this does get easier the more you familiarise yourself with the system of icons and symbols which tell you whether to play chords, finger tap, slide or pitch bend your notes.
As well as the journey mode which lets you play a list of tunes then perform them in front of a cut-out for the chance to play an encore and unlock new venues, guitars and amp sounds, there are challenges to complete and you can practice phrases, riffs and chords of tunes so when you play the whole thing it's not such a surprise to your fingers. This is useful but the loading and tuning screens between every option can slow things down. There are also a load of mini games to unlock in the arcade but these really didn't float my proverbial boat so to speak.
Rocksmith does have promise as a teaching aid and certainly raises the bar over playing at being a rock star with a plastic guitar. Just don't expect to warm to it straight away. But just like learning or re-learning any instrument, practice makes perfect. Rocksmith gets a very good 7 out of 10.
Get Rocksmith now
New: Buy Rocksmith from Amazon.com
Offers: To save money the next time you buy web hosting and domains use our Godaddy coupon codes for October 2012.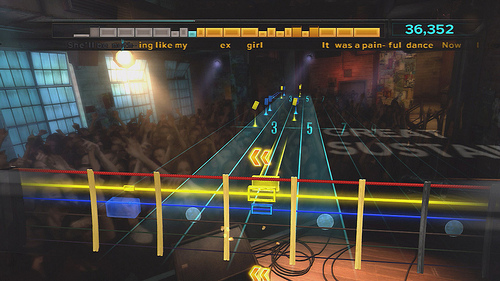 Related: music game, Rocksmith release date, Rocksmith review on Youtube