GTA IV
Posted on 2008-05-22
Tagged with:
The GTA 4 actor who voiced Niko Bellic in Rockstars latest hit videogame is said to be unhappy for only getting paid $100,000 for 15 months work. Rockstar has made $600 million since the game was released and the voiceover actor Michael Hollick thinks its unfair to be paid so little - "it's tough, when you see Grand Theft Auto IV out there as the biggest thing going right now, when they're making hundreds of millions of dollars, and we don't see any of it."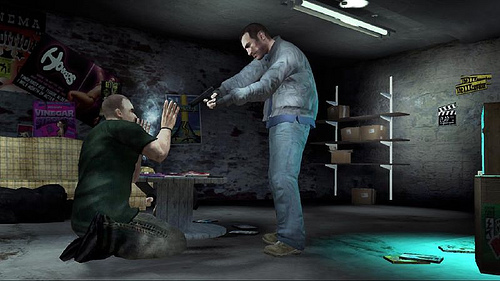 Michael Hollick in negotiations with Rockstars Sam Houser
The Grand Theft Auto actor needs to get some perspective when using the words 'only' and '$100,000' in the same sentence, that's a lot of money for a career with no real outgoing expenses other than Lemsip and cigarettes. The 35 year old actor went on to complain "Yes, the technology is important, but it's the human performances within them that people really connect to, and I hope actors will get more respect for the work they do within those technologies".
Rockstar did pretty well with the original GTA III where the main character didn't even speak, but lets hope the 2009 GTA IV sequel doesn't get cancelled because they can't afford the diva demands of Hollywood's finest.
Related: GTA IV PC release date, GTA IV sales figures, GTA IV review