So we're once again heading towards Christmas and as usual instead of contemplating how we could perhaps stop killing each other with guns, knives and twenty four hour television. Instead we just want to sit and play video games on our Xbox 360 console. Well as the saying goes; if you can't beat them, join them. Here are our picks for the best Christmas Xbox 360 games to purchase for yourself or as gifts for others this year.
Xbox 360 Slim with Kinect Bundle
This probably has to be at the top gift for those with an old Xbox 360 that is near the end of its life or someone who is hoping to acquire one for the first time. The new Xbox 360 Slim has 4GB of memory and is smaller, sleeker, quitter and more reliable than the old model. And guess what; with this bundle you also get the Kinect motion sensing addon that provides wireless gaming with the included Kinect Adventures Xbox 360 game.

Buy now: Buy a Kinect Bundle from Amazon.com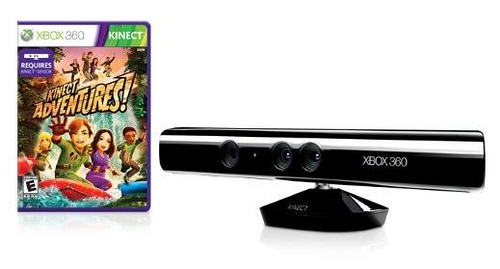 Call of Duty Black Ops Prestige Edition
Most self-respecting gamer with a fixed income will probably be very tempted to buy this special edition Call of Duty Black Ops bundle for themselves but will likely be worried what the wife or girlfriend might think. Why not break the mould and preorder Call of Duty Black Ops Prestige edition for them? The package includes 4 bonus maps not available in the standard game as well as a funky remote control surveillance vehicle and a portable screen to watch the footage on.

Buy now: Buy Call of Duty Black Ops Prestige Edition from Amazon.com
Harry Potter and the Deathly Hallows
Before you start thinking that Harry Potter is for kids let me remind you that the original Potter movie was released in cinemas back in November 2001. In this latest adventure Harry and friends are growing up fast and come equipped with hormones and body hair that just wasn't around when they were younger. Puberty aside, many Harry Potter fans have grown up with the franchise and as the stars have gotten older so have the people who watch the movies. Harry Potter and the Deathly Hallows for Xbox 360 is the darkest game in the series yet and promises to be spooky and full of magic. Oh and it has support for Microsoft Kinect too.

Buy now: Buy Harry Potter and the Deathly Hallows from Amazon.com
Splatterhouse
If there's one thing teenage boys like besides peeking into girls bedrooms it's blood and gore. Now the offbeat Japanese game that would let you peek into a virtual girl's bedroom has quite wisely not been released into Western markets and instead we'll have to make do with what is said to be the goriest game of all time. Splatterhouse for the Xbox 360 is a reinvention of the classic 16bit game which this time around features full 3D graphics and plenty of blood and body parts flying around the screen with the help of Rick's trusty chainsaw.

Buy now: Buy Splatterhouse from Amazon.com