Last week I ran down my favourite games of 2008 so it's only fitting I take a look at five games coming out in 2009 that are getting me all excited.
The Chronicles of Riddick: Assault on Dark Athena

One of my favourite games on the original Xbox was The Chronicles of Riddick. I liked it so much I went to see the film of the same name which was a mistake as it was very, very bad and nowhere near as good as Pitch Black. The game already looked incredible back then and this sequel called Assault on Dark Athena looks like it could be a belter too. It's a brand new story and this time there's a multiplayer mode and of course it will look even better. The original Butcher Bay game is on there too complete with enhanced graphics and gameplay tweaks.
Resident Evil 5

After the fantastic Resident Evil 4 gave the survival horror genre a swift kick up the arse, it's great to know we only have to wait a couple of months for Resident Evil 5. This one's set in Africa and once again there's another outbreak of that lousy T-Virus. Chris Redfield and the ever-cheesy Wesker are back in the action along with female characters Sheva and Excella. And of course, there'll be plenty of angry infected people and mutants to shoot from your third-person view. Although this won't revolutionise things this time around, I'm sure they'll tweak this to make it even better than the last one.
Bioshock 2: Sea of Dreams

Although all we can show you of Bioshock 2: Sea of Dreams is this rather relaxing teaser trailer where a girl looks out to a lovely sunset holding what seems to be a Big Daddy doll made out of a baseball and a cork, it's something I'm excited to play. Even though the last game was flawed in my opinion with the regeneration chambers mechanic, it did have an atmosphere about it I haven't experienced since playing the original Half-Life. I'm not even sure if the game will be set in Rapture or in a completely different world. Hopefully there'll be more magic in this sequel, and of course the ability to shoot fire, lightning and ice from your bare hands.
God of War III


I'm not a massive hack and slash fan but I can easily spare some time for the God of War games. This is the first game for the PS3 after Kratos' outings on the PS2 and PSP, this game promises to be a painting in motion. From the looks of this it's going to play smoother than the proverbial baby's bottom and it looks like Kratos has got some funky new god-given upgrades to play with.
Uncharted 2: Among Thieves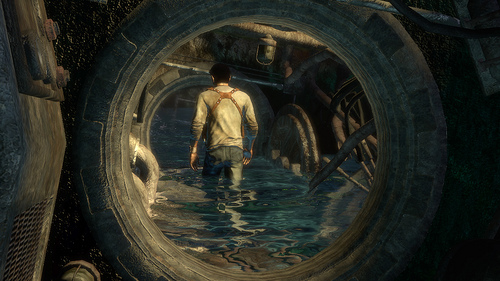 Uncharted took me by surprise when I played it on the PS3. I was expecting a run-of-the-mill action adventure and was totally blown away by everything about it. Ok, so it borrowed the best bits from Prince of Persia, Tomb Raider and Gears of War but that's not a bad thing. In this sequel, Nathan Drake is on the trail of some Marco Polo treasure and travels to Italy, Tibet and even gets to play in the snow. There'll be more stealth in this game as well as better climbing and that seamless stop and pop combat. It's just another reason why I'll play on my PS3 more this year.
That's just five of a long list of games I'm going to play this year, and then of course tell you if they are in fact any good or not. Thanks for supporting Gamesweasel in 2008. Tell your friends get them to subscribe and hopefully, we'll all make it through 2009 with loads of gameplay hours and achievement points behind us.
Preorder the games now
New: Buy The Chronicles of Riddick: Assault on Dark Athena from Amazon.com
New: Buy Resident Evil 5 from Amazon.com
New: Buy Bioshock 2: Sea of Dreams from Amazon.com
New: Buy God of War 3 from Amazon.com
New: Buy Uncharted 2: Among Thieves from Amazon.com